Welcome to Quickcard.co.uk The Home Of High Quality Affordable Printing
We provide a wide range of printing services including: Business Cards, Minicab Cards, Postcards, Flyers, Stickers, Brochures, Leaflets & More..
Full Colour Flyers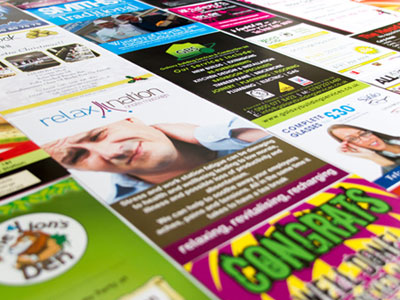 Printed Flyers from Quickcard.co.uk are one of the most affordable, yet effective ways of advertising your company. Flyers can be targeted directly to your local area and help to dramatically increase your potential customer base.

Our flyers are perfect as a way to advertise special offers or events and vital if you are just starting up and need a cost effective marketing tool to help get your business off the ground.

Our flyers are very popular with beauty salons and nail shops as price lists. Builders and cleaners love them for their immediate impact and estate agents agree they are a useful tool in obtaining new business.

Our flyers are printed full colour both sides on quality glossy board. You can choose between 170gsm glossy paper or 350gsm glossy card. Artwork is included in the price and best of all shipping is free!

All our flyers are designed specifically for you, around your marketing strategy, we do not use templates ... why risk ending up with the same flyer as your competition?

Contact us today to discuss how our professional and experienced team can make you look good on paper.
Recent Artwork Projects / Work Samples