Welcome to Quickcard.co.uk The Home Of High Quality Affordable Printing
We provide a wide range of printing services including: Business Cards, Minicab Cards, Postcards, Flyers, Stickers, Brochures, Leaflets & More..
Low Cost Business Cards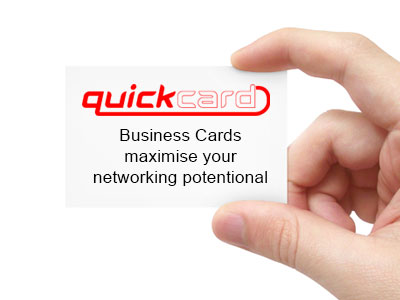 Business Cards... Still necessary? Absolutely!

Why use business cards? Because this old-fashioned paper rectangle is still the fastest and easiest way to share contact information with other businesspeople and with prospective customers and clients. Even in this digital age, they're still one of the best ways to remind people about your business and therefore, to get business.

Business cards provide a legitimacy to your business, facilitate networking and they are never inaccessible because of dead spots or Internet outages! Our superior business cards are printed full colour both sides on 350gsm card and trimmed to standard business card size (85mm x 55mm).

We will then laminate your cards, this forms a protective coating making them last longer and look fabulous!

You can choose between Matt or Gloss Lamination. Gloss laminated business cards produce a bright gloss finish that enriches and deepens the look of your full colour card. Matte laminated business cards produce a soft, silky, smooth finish that oozes quality.

We design your cards free of charge, even shipping is free!
Logo?
If you don't already have a company logo, we offer a logo design service from only £40+Vat!


Recent Artwork Projects / Work Samples